Valuing Impact
Impact Rewards are a revolutionary new initiative that rewards those who contribute to different impact or sustainability projects.
Like airline points, the more someone participates in impactful projects, the more Impact Rewards they will receive. These rewards can then be redeemed for items (digital or otherwise) made available by participating projects and their supporters.  Our aim is to encourage an ecosystem of impact projects, where Impact Rewards can be earned, redeemed or even traded.
How It Works
Impact Rewards will be fungible tokens, on the Cardano blockchain (potentially expanding to other blockchains in the future). They will be issued through smart contracts, where participating projects (or supporters of projects) submit redeemable digital assets and the corresponding number of Impact Rewards that are required to redeem them.
The digital assets are locked, allowing Impact Rewards to be issued against them for distribution by the project. While tokenised assets are required to support the Impact Rewards minting process, some projects may choose to partner with vendors to offer physical items in exchange for tokens redeemed for Impact Rewards.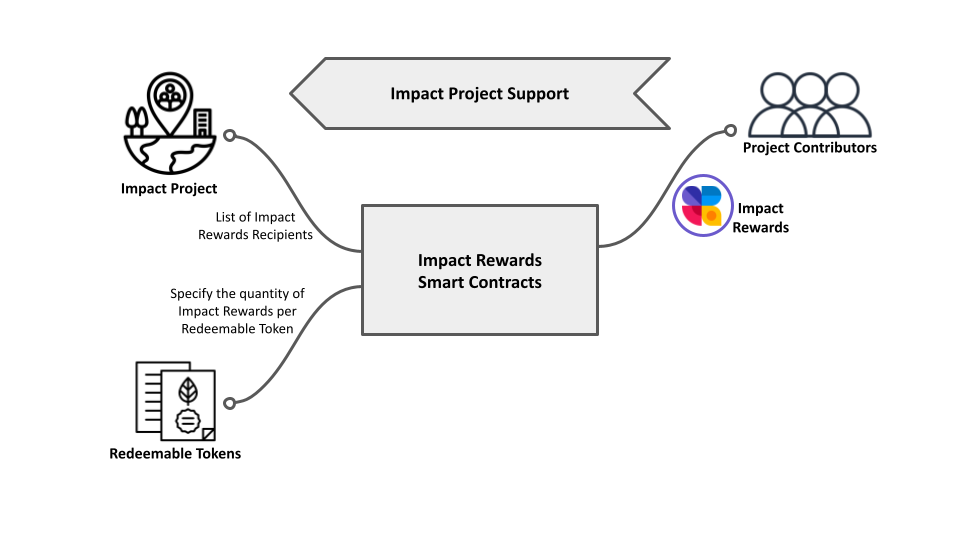 As different projects supply more redeemable assets, the options made available to Impact Rewards recipients will become more varied, as they are not restricted to only redeeming assets provided for the project they contributed to.
Join the Program
If you are an impact project and would like to participate in the Impact Rewards program as a way to give back to those that have supported your project, then please contact us.